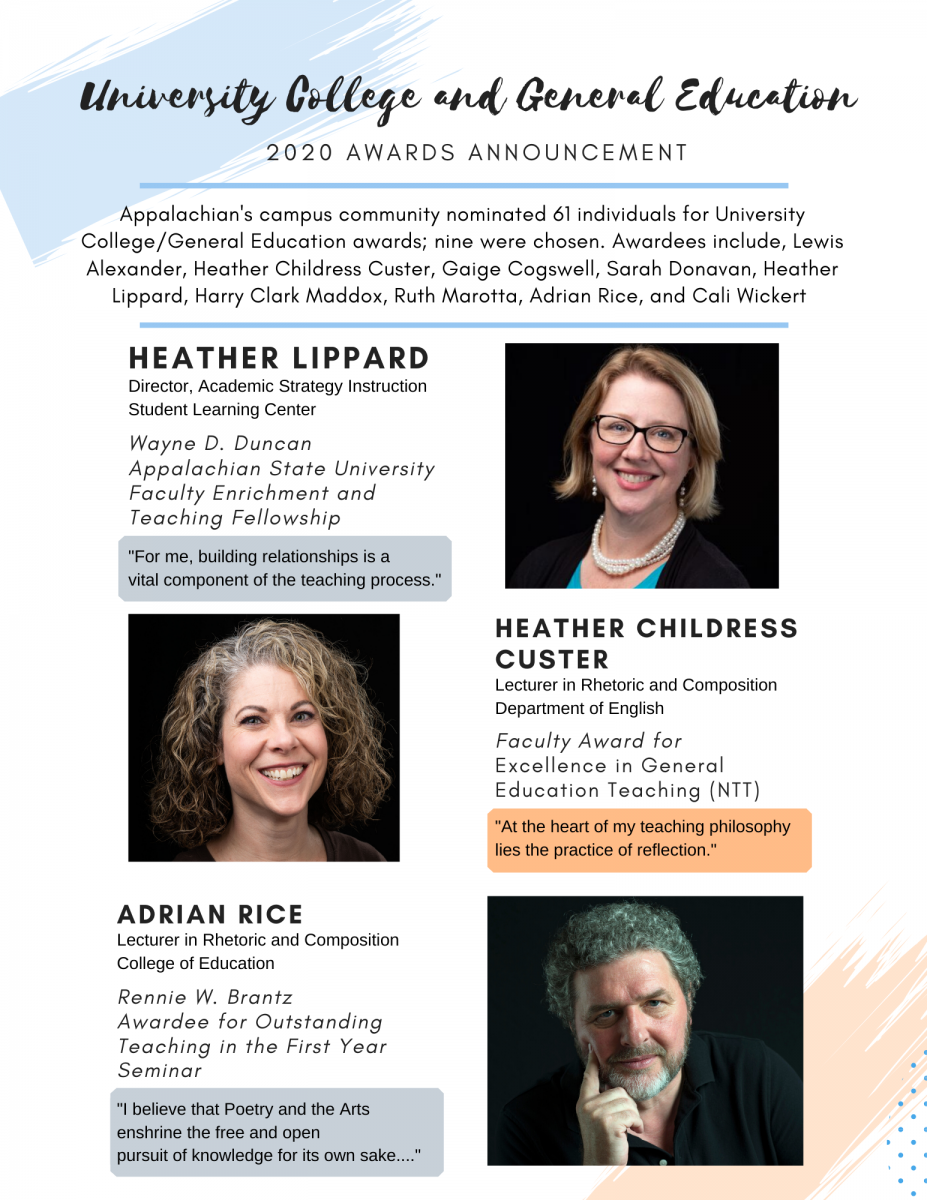 University College and General Education
2020 Awards Announcement
Appalachian's campus community nominated 61 individuals for University College/General Education awards; nine were chosen. Awardees include, Lewis Alexander, Heather Childress Custer, Gaige Cogswell, Sarah Donavan, Heather Lippard, Harry Clark Maddox, Ruth Marotta, Adrian Rice, and Cali Wickert.
Heather Lippard
Director, Academic Strategy Instruction
Student Learning Center
Wayne D. Duncan Appalachian State University Faculty Enrichment and Teaching Fellowship
"For me, building relationships is a vital component of the teaching process."
Heather Childress Custer
Lecturer in Rhetoric and Composition
Department of English
Faculty Award for Excellence in General Education Teaching (NTT)
"At the heart of my teaching philosophy lies the practice of reflection."
Adrian Rice
Lecturer in Rhetoric and Composition
College of Education
Rennie W. Brantz Awardee for Outstanding Teaching in the First Year Seminar
"I believe that Poetry and the Arts enshrine the free and open pursuit of knowledge for its own sake...."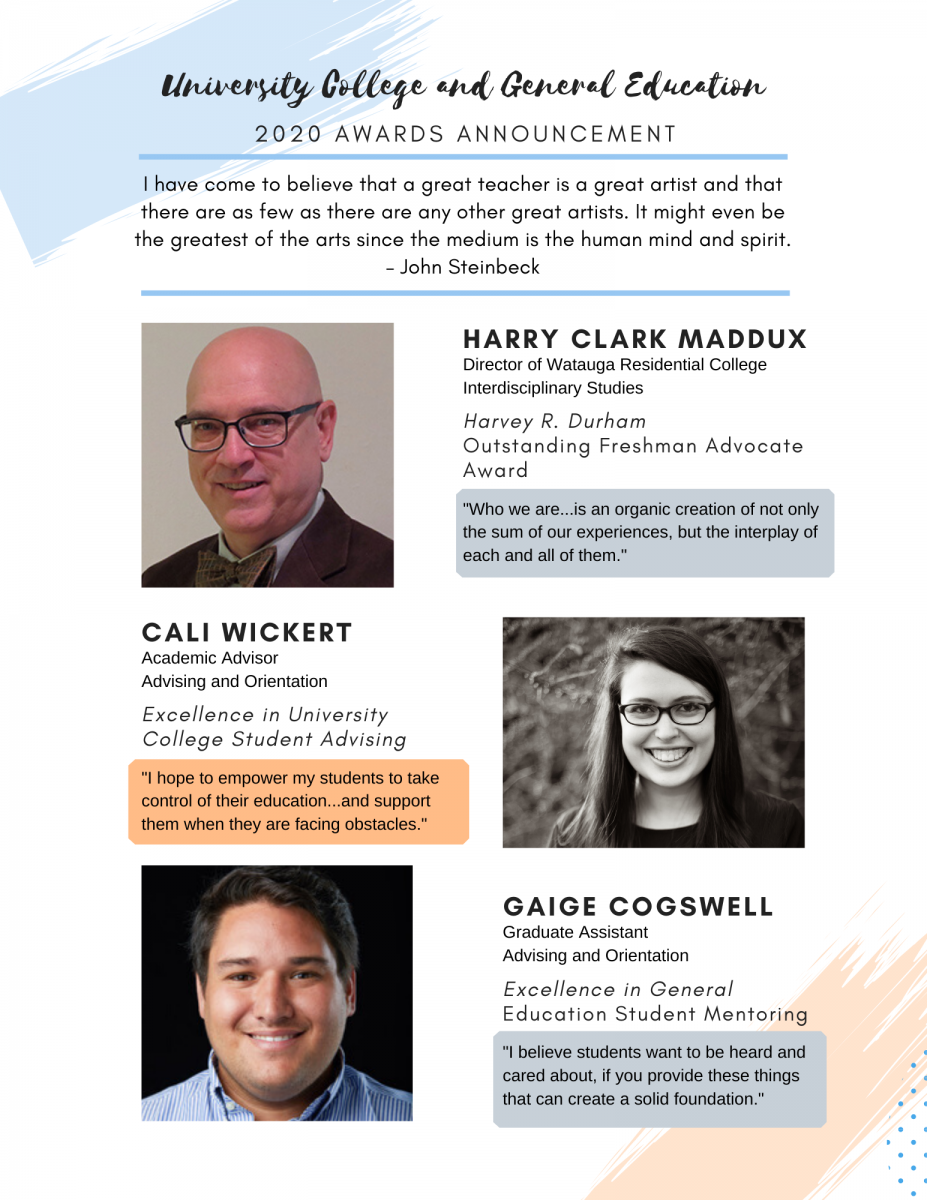 University College and General Education
2020 Awards Announcement
I have come to believe that a great teacher is a great artist and that there are as few as there are any other great artists. It might even be the greatest of the arts since the medium is the human mind and spirit. – John Steinbeck
Harry Clark Maddux
Director of Watauga Residential College
Interdisciplinary Studies
Harvey R. Durham Outstanding Freshman Advocate Award
"Who we are...is an organic creation of not only the sum of our experiences, but the interplay of each and all of them."
Cali Wickert
Academic Advisor
Advising and Orientation
Excellence in University College Student Advising
"I hope to empower my students to take control of their education...and support them when they are facing obstacles."
Gaige Cogswell
Graduate Assistant
Advising and Orientation
Excellence in General Education Student Mentoring
"I believe students want to be heard and cared about, if you provide these things that can create a solid foundation."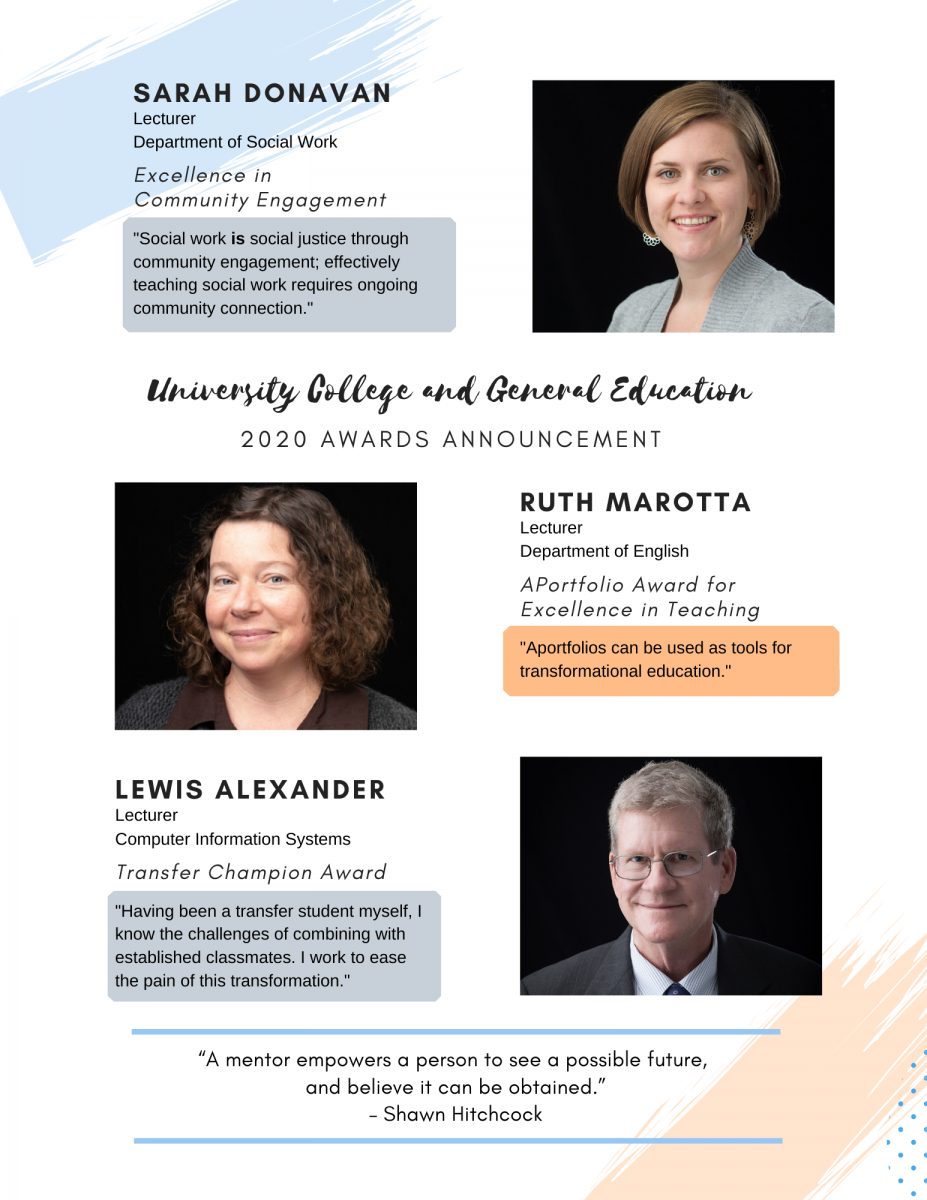 University College and General Education
2020 Awards Announcement
Sarah Donavan
Lecturer
Department of Social Work
Excellence in Community Engagement
"Social work is social justice through community engagement; effectively teaching social work requires ongoing community connection."
Ruth Marotta
Lecturer
Department of English
APortfolio Award for Excellence in Teaching
"Aportfolios can be used as tools for transformational education."
Lewis Alexander
Lecturer
Computer Information Systems
Transfer Champion Award
"Having been a transfer student myself, I know the challenges of combining with established classmates. I work to ease the pain of this transformation."
"A mentor empowers a person to see a possible future, and believe it can be obtained." – Shawn Hitchcock