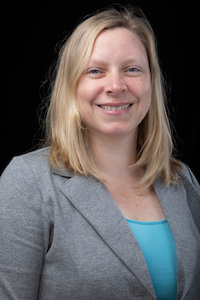 Lillian Nave, Senior Lecturer in First Year Seminar, a division of University College, has received the UNC Board of Governors Appalachian State University School/College Excellence in Teaching Award.
The Board of Governors Appalachian State School/College Excellence in Teaching Award is presented to any faculty member who has taught at least five years at Appalachian while demonstrating consistent excellence in and commitment to teaching over a period of time. The announcement comes with a $1,000 award and recognition during Fall Convocation.
Nave, whose graduate degree is in Art History with a focus on Greek Art, served as an adjunct instructor in the Department of Art for seven years before being hired, in 2014, as a Lecturer in First Year Seminar. Discussing her passion for teaching, Nave shared that she loves the ability and privilege she has "to meet students as they enter college because it is a time to shape their conception of what higher education can be." Nave believes an important part of her responsibility as an educator is to help move first year students from a "transactional" mindset where students give a particular answer for a grade, to a "transformational" way of thinking, where students learn to push themselves and their thinking in rich and nuanced ways. She wants students to know that their voice is vital and that listening to others is equally important.
Nave said that First Year Seminar enhances teaching and learning opportunities by allowing instructors to choose topics that introduce students to new ways of thinking about various subjects. In her Art, Politics, and Power course, Nave uses visual arts, art history, political science, and history as a lens through which to look at topics such as Nazi-looted art during World War II and questions about who owns culture. Her Arts4Peace and Art Dialogues Across Cultures seminars delve into art and activism and the multivalence of art as seen through different cultural lenses, respectively.
Since 2017, Nave has been reassigned one-quarter time to teach faculty about Universal Design for Learning (UDL). UDL is a design framework and set of guidelines that aims to reduce barriers to learning for all students by offering multiple means of engagement, representation, and expression. Nave says that college instructors should see themselves as "cognitive coaches who should meet the needs of all students." Dr. Michael Mayfield, Professor of Geography and former Vice Provost for Undergraduate Education, remarked "Lillian's energy and enthusiasm for transformative teaching are legendary among those of us who work closely with her" and that faculty who have participated in her UDL workshops "report that their own teaching has been transformed as a direct result of working with Lillian." Her interest in spreading the word about Universal Design for Learning has resulted in her creation of a national podcast called ThinkUDL, where she interviews UDL early adopters in higher education worldwide.
Martha McCaughey, Director of First Year Seminar, in her letter of support for Nave's nomination for the NC BOG Award, said, "Lillian Nave is a true teaching leader. Her pedagogical initiatives include founding Art Haus, a Residential Learning Community, being an early adopter of our University QEP on global learning, linking her First Year Seminar in Art, Religion, and Society course to a course in Kabul, Afghanistan, taking her First Year Seminar students on domestic and international trips, and sharing a passion for Universal Design for Learning with faculty across the campus and the nation."
Reeves Shulstad, Associate Professor of Musicology, supported Nave's nomination with her firm belief that "General Education is a cornerstone of the undergraduate experience, and Lillian Nave is genuinely dedicated to providing an outstanding seminar for her students and contributing to the improvement of the academy. Her work is crucial to the success of undergraduates at Appalachian and to the faculty that seek her guidance."
The purpose of the North Carolina Board of Governors Award is to highlight the importance of teaching and to recognize the extraordinary contributions of faculty members throughout the 17 member the UNC System. According to a UNC System's new release, this year marks the 25th anniversary of this prestigious award that was established by the Board in 1993.