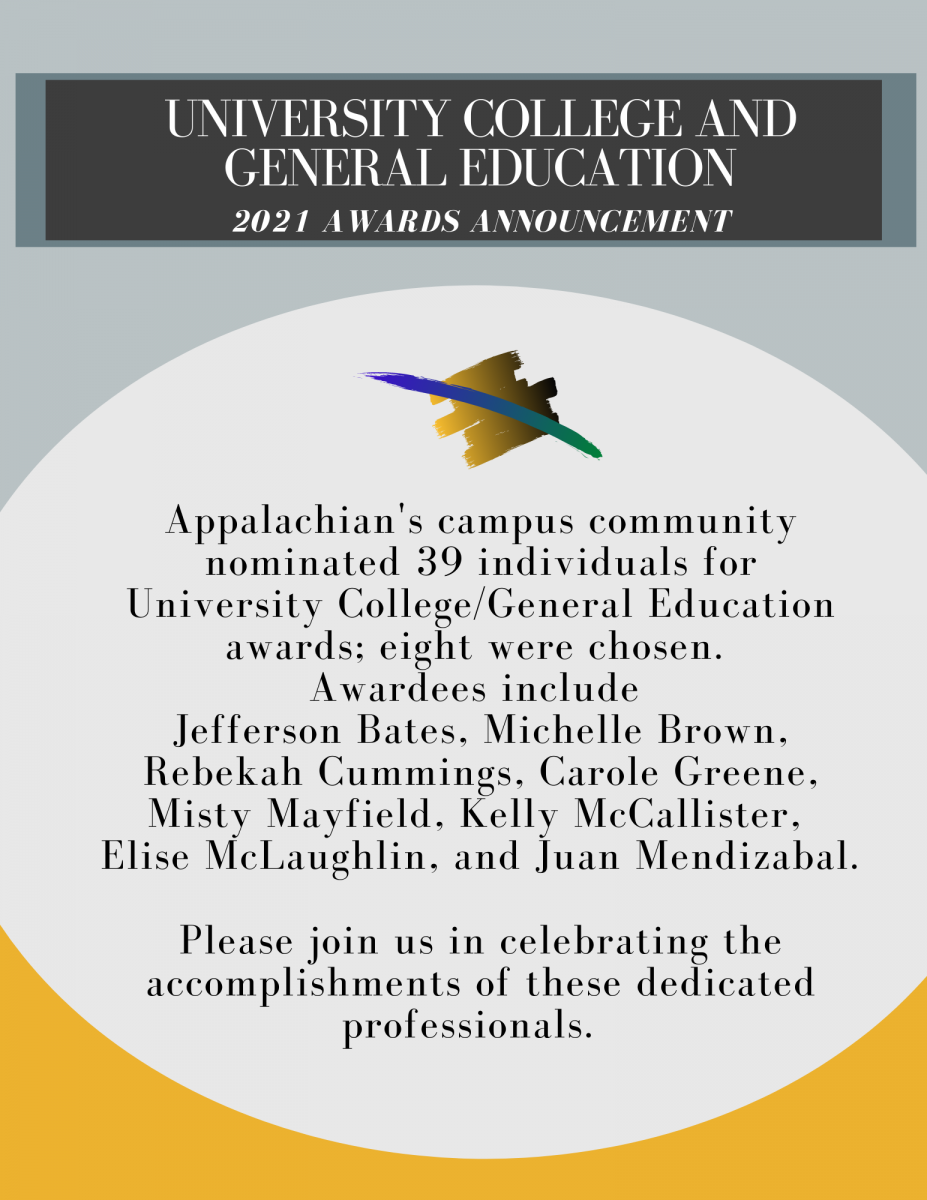 University College and General Education
2021 Awards Announcement
Appalachian's campus community nominated 39 individuals for University College/General Education awards; eight were chosen. Awardees include Jefferson Bates, Michelle Brown, Rebekah Cummings, Carole Greene, Misty Mayfield, Kelly McCallister, Elise McLaughlin, and Juan Mendizabal.
Please join us in celebrating the accomplishments of these dedicated professionals.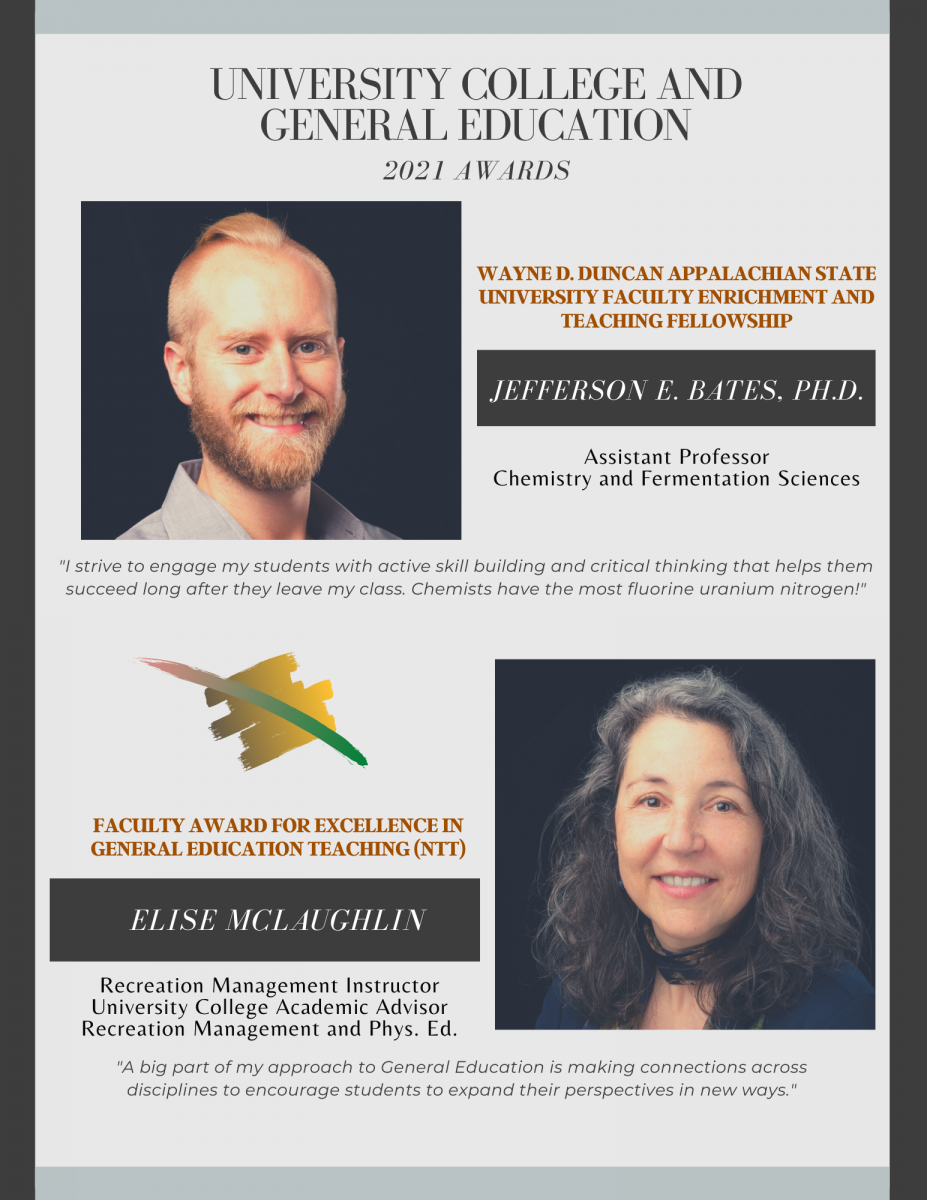 Wayne D. Duncan Appalachian State University Faculty Enrichment and Teaching Fellowship
Jefferson E. Bates, Ph.D.
Assistant Professor
Chemistry and Fermentation Sciences
"I strive to engage my students with active skill building and critical thinking that helps them succeed long after they leave my class. Chemists have the most fluorine uranium nitrogen!"
Faculty Award for Excellence in General Education Teaching (NTT)
Elise McLaughlin
Recreation Management Instructor
University College Academic Advisor
Recreation Management and Phys. Ed.
"A big part of my approach to General Education is making connections across disciplines to encourage students to expand their perspectives in new ways."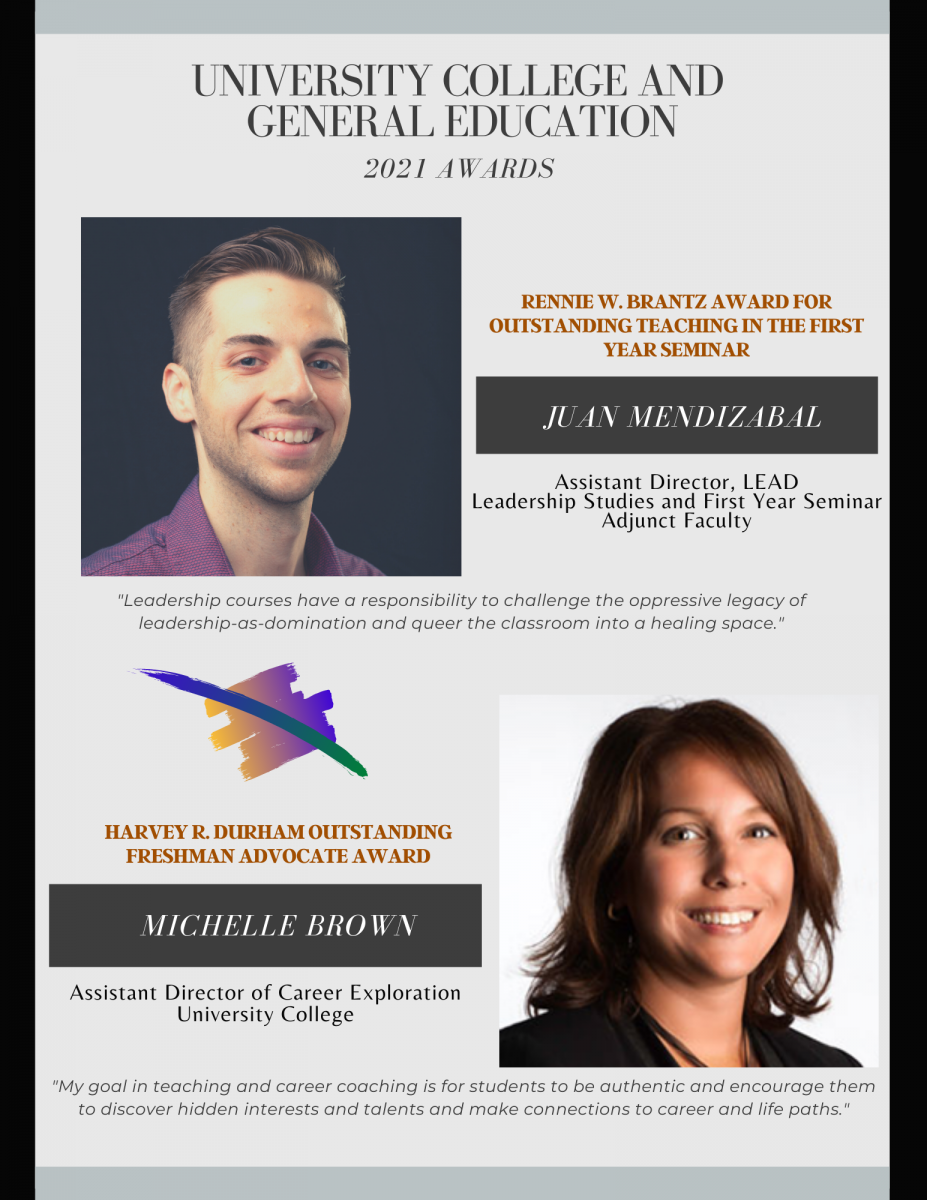 Rennie W. Brantz Award for Outstanding Teaching in the First Year Seminar
Juan Mendizabal
Assistant Director, LEAD
Leadership Studies and First Year Seminar Adjunct Faculty
"Leadership courses have a responsibility to challenge the oppressive legacy of leadership-as-domination and queer the classroom into a healing space."
Harvey R. Durham Outstanding Freshman Advocate Award
Michelle Brown
Assistant Director of Career Exploration
University College
"My goal in teaching and career coaching is for students to be authentic and encourage them to discover hidden interests and talents and make connections to career and life paths."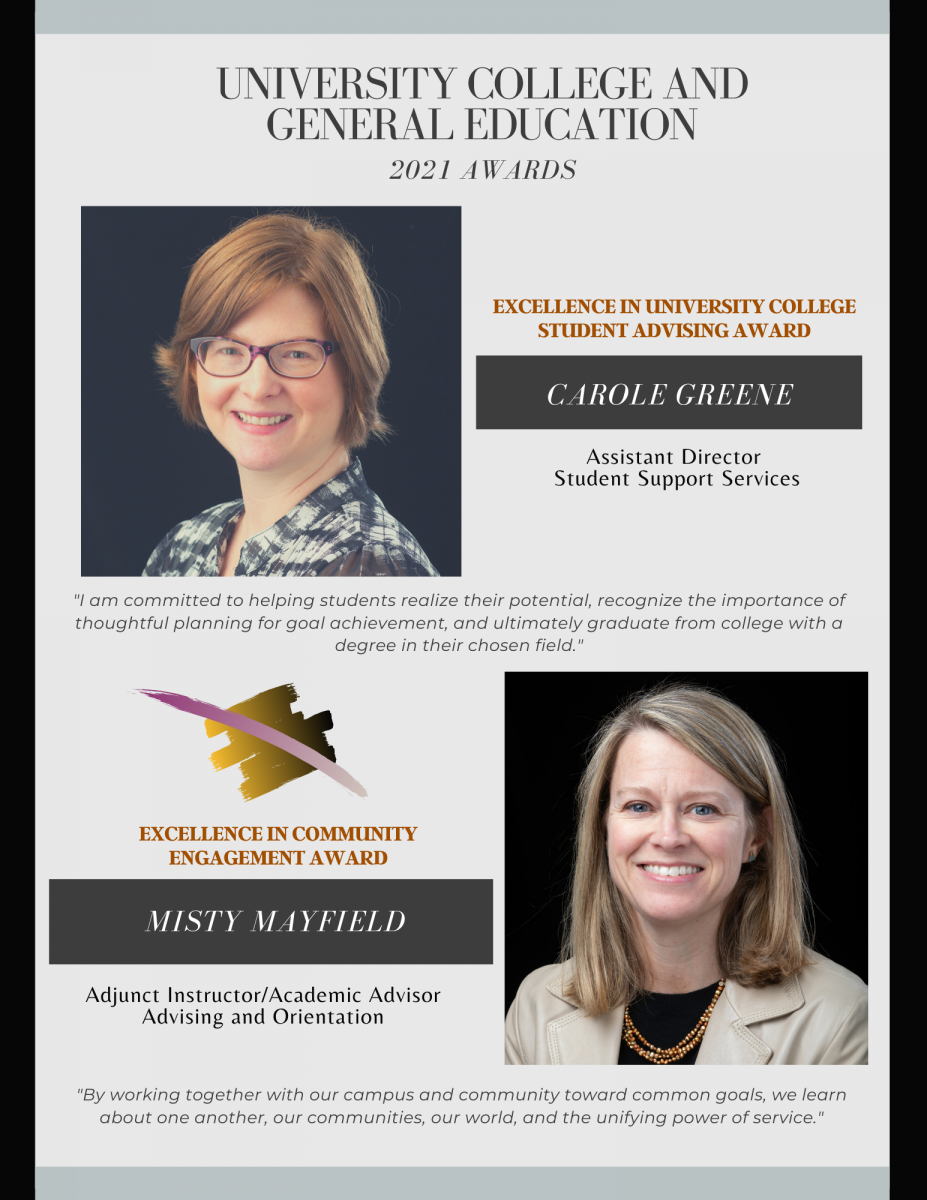 Excellence in University College Student Advising Award
Carole Greene
Assistant Director
Student Support Services
"I am committed to helping students realize their potential, recognize the importance of thoughtful planning for goal achievement, and ultimately graduate from college with a degree in their chosen field."
Excellence in Community Engagement Award
Misty Mayfield
Adjunct Instructor/Academic Advisor
Advising and Orientation
"By working together with our campus and community toward common goals, we learn about one another, our communities, our world, and the unifying power of service."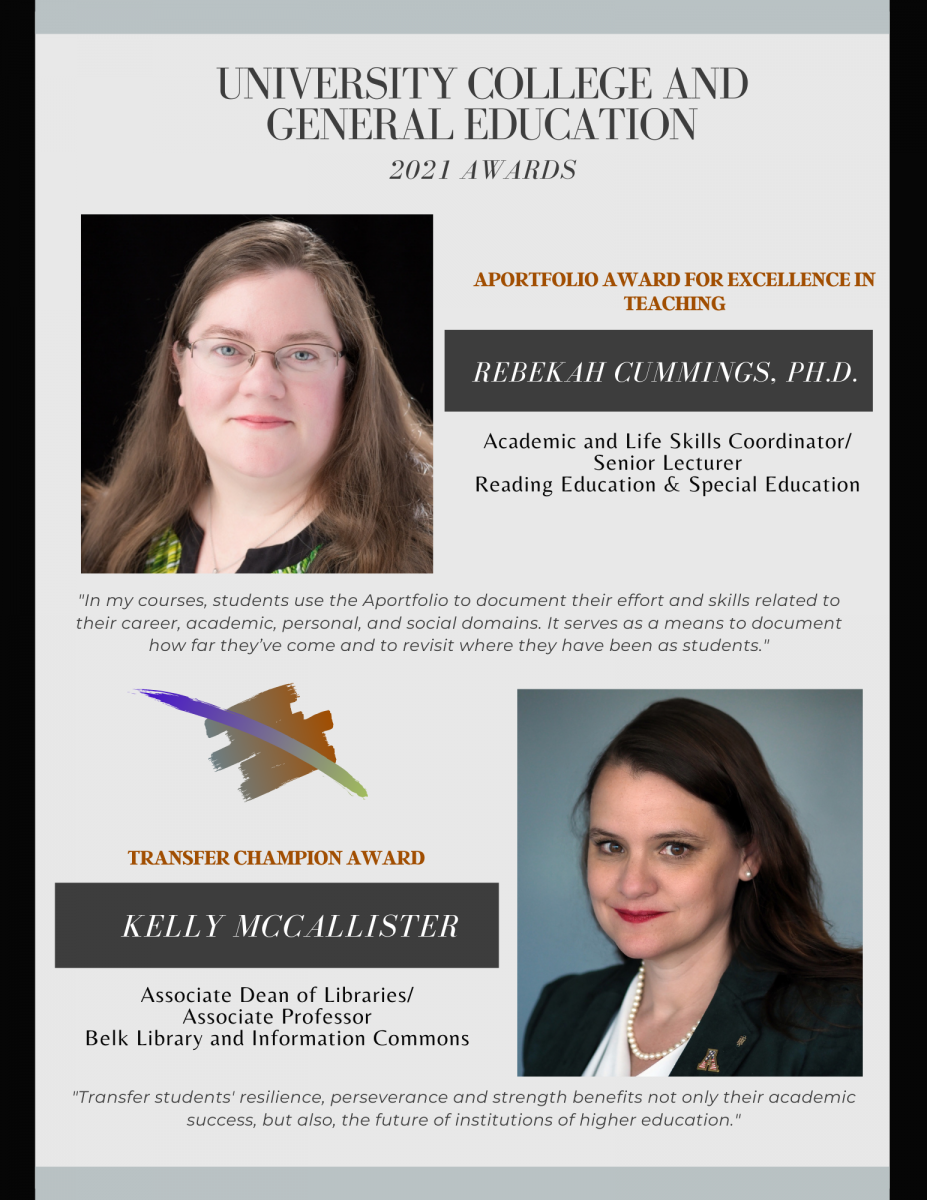 APortfolio Award for Excellence in Teaching
Rebekah Cummings, Ph.D.
Academic and Life Skills Coordinator/ Senior Lecturer
Reading Education & Special Education
"In my courses, students use the Aportfolio to document their effort and skills related to their career, academic, personal, and social domains. It serves as a means to document how far they've come and to revisit where they have been as students."
Transfer Champion Award
Kelly McCallister
Associate Dean of Libraries/Associate Professor
Belk Library and Information Commons
"Transfer students' resilience, perseverance and strength benefits not only their academic success, but also, the future of institutions of higher education."
Tags: