What: "Buckjumping" by award-winning filmmaker Lily Keber
When: Thursday, November 21, 2019, 7 pm
Where: Belk Library and Information Commons, Room 114
Buckjumping takes the pulse of present-day New Orleans by turning to its dancers, the men and women who embody the rhythm of the city and prove it on the streets every chance they get. Filmmaker Lily Keber, a native of Boone who now lives in New Orleans, will present her work 7 pm Thursday, November 21st. in room 114 of the Belk Library and Information Commons on the campus of Appalachian State University. Rob Brown, a faculty member in the department of Geography and Planning will share photos from his research on New Orleans Mardi Gras Indian traditions before the screening.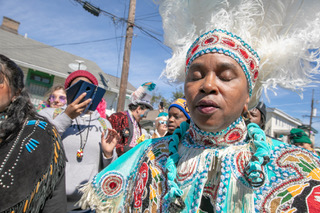 Photo courtesy of Rob Brown
Famed critic Roger Ebert praised the documentary, writing: The ghost of Les Blank flows through Lily Keber's documentary "Buckjumping," an examination of New Orleans dance culture in all its facets and forms. Named after a type of fast-paced footwork dance typically attributed to second line parades, "Buckjumping" brims with curiosity, empathy, and respect for its subjects, capturing them at their most passionate.
Buckjumping follows six different New Orleans communities and their connections through dance. Immersive, cinematic, high energy and joyful, Buckjumping is a celebration of Black culture, cultural continuity, and of the crucial importance for community self-definition. Nine Times Social Aid ; Pleasure Club guide us through preparations for their annual second line. Golden Sioux Gang lead us through their Mardi Gras Indian practice at Handa Wanda. Mourners grieve a family member at a funeral, followed by celebrations for the deceased in the street. Edna Karr High School's dance troupe hits St Charles Avenue for Muses Parade. Hasizzle The Voice emcees a bounce night. Hustler introduces us to the world of drag in backstreet clubs.
Director Lily Keber is a filmmaker and educator based in New Orleans. Her directorial debut, Bayou Maharajah, premiered at SXSW in 2013 and has since won many awards including the Oxford American Award for Best Southern Film and Louisiana Endowment for the Humanities' Documentary Of The Year.
Buckjumping premiered at the 2018 New Orleans Film Festival where it won awards for Feature Documentary as well as Best Cinematography in Documentary. The documentary drew the largest audience in NOFF history and audience members formed a spontaneous second line after the screening.
The film is co-sponsored by University Documentary Film Services and the Department of Geography and Planning.
For more information contact Tom Hansell (hansellts@appstate.edu) at 828.262.7715
About Appalachian State University Documentary Film Services
University Documentary Film Services at Appalachian State University teaches, engages in and presents documentary work grounded in collaborative local and global partnerships. Photography, film/video, audio and narrative writing are used to capture and convey memory, life, research, theory and culture. Additionally, the program provides professional consultation to students, faculty and staff engaged in documentary projects; maintains an archive of campus documentary work; hosts workshops for the campus community; and coordinates screenings of both finished and ongoing documentaries produced by Appalachian faculty and staff, as well as visiting professional documentarians. It is a unit within Appalachian's University College. Learn more at https://doc.appstate.edu.
About the Department of Geography and Planning
The Department of Geography and Planning promotes the understanding of the spatial dimensions of human behavior within the physical and cultural systems of the earth, and the role of planning in achieving improvement in those systems. The department offers degrees in geography and in community and regional planning. Learn more at https://geo.appstate.edu.
About the College of Arts and Sciences
The College of Arts and Sciences is home to 16 academic departments, one stand-alone academic program, two centers and one residential college. These units span the humanities and the social, mathematical and natural sciences. The College of Arts and Sciences aims to develop a distinctive identity built upon our university's strengths, traditions and unique location. The college's values lie not only in service to the university and local community, but through inspiring, training, educating and sustaining the development of its students as global citizens. There are approximately 6,100 student majors in the college. As the college is also largely responsible for implementing Appalachian's general education curriculum, it is heavily involved in the education of all students at the university, including those pursuing majors in other colleges. Learn more at https://cas.appstate.edu.
About University College
Formed in 2007, University College consists of the university's general education program, faculty and student support, and co-curricular programming and support – all designed to support the work of students both inside and outside the classroom. All students at Appalachian begin their education in University College and benefit from its programs until they graduate. Learn more at https://universitycollege.appstate.edu.
About Appalachian State University
As the premier public undergraduate institution in the state of North Carolina, Appalachian State University prepares students to lead purposeful lives as global citizens who understand and engage their responsibilities in creating a sustainable future for all. The Appalachian Experience promotes a spirit of inclusion that brings people together in inspiring ways to acquire and create knowledge, to grow holistically, to act with passion and determination, and to embrace diversity and difference. Located in the Blue Ridge Mountains, Appalachian is one of 17 campuses in the University of North Carolina System. Appalachian enrolls more than 19,000 students, has a low student-to-faculty ratio and offers more than 150 undergraduate and graduate majors.