In the southwest corner of Caldwell County, North Carolina, is a community settled in 1855 and populated mostly by African Americans who share a kinship and the last name of Dula. The town's genesis is unique because, in times past, most African Americans did not acquire land in the way that Dulatown's ancestors gained theirs.
The story of Dulatown is chronicled in a book titled "Black and White: The Story of Harriet Harshaw and 'Squire' James Alfred Dula," written by Dr. Leslie McKesson '16 and the subject of a documentary airing on UNC-TV November 21st at 10 pm.
Many in Dulatown are descendants of Harriet Harshaw, a woman born into slavery around 1824. She was likely initially owned by Jacob Harshaw, who, according to McKesson, was also probably Harriet Harshaw's father, as suggested by DNA testing of their descendants.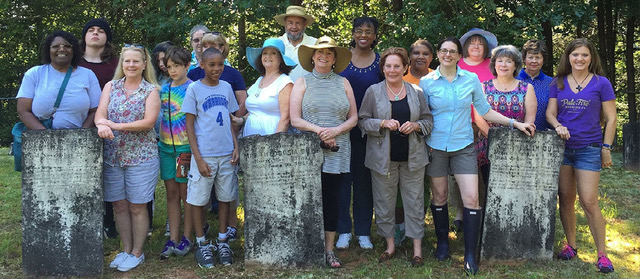 Black and White Dulas at the Dula family gravesite in Lenoir
Harriet Harshaw was sold in 1846 to "Squire" Alfred Dula, who fathered eight of her 12 children. Although it is not uncommon for slave owners to have children with their slaves, those men rarely, if ever, acknowledged enslaved children as their own or treated them as heirs. And yet, this is where the Dulatown story begins.
McKesson told how Alfred Dula, a wealthy farmer, chose to divide his land among his six children from his wife, who died early in their marriage, and among his slave Harriet and their children. Alfred Dula began giving land to Harriet and her children before his death and reportedly gave over 2000 acres of land to them through a combination of lifetime property transfers and his testamentary will.
"My will is that my executor shall use so much of my estate as shall be necessary even to the entire amount therefore in defending on behalf of said colored persons or any of their heirs," Dula dictated in his will. According to McKesson, he made an effort to protect the land of Harriet and her heirs by directing one of his white sons, Julius Dula, to revoke land given to his white sons if they attempted to protest his will. Family legend says that one son objected and lost his property.
"We may never know the nature of their relationship," McKesson said, speaking of the debate of whether a slave owner could ever have a consensual relationship with someone who is in bondage. But, apart from not knowing the nature of their relationship, it is known that Alfred worked to educate Harriet and her children, and he ensured that they could keep the land that would change their lives.
McKesson's desire to write about her family's history stemmed from stories her father shared throughout her life; stories passed down to him from his father and grandfather. McKesson's father not only told stories that conjured feelings of family pride for some and shame for others, but he also collected documents to support those stories. He looked at public records and over the years, gathered 20 boxes of official documents such as birth, marriage, and death certificates, other legal artifacts, and interviews that supported an ancestral connection between black and white Dulas.
After reading the book "Roots," given to him by McKesson while she was a student at UNC-Chapel Hill, her father eventually entrusted to her all 20 boxes of his research and asked that she commit to one day write the story of the Dula family's history. Approximately two decades later, in 2012, she began the work of writing her family's history. March of 2013 was the book's release date. Not expecting much interest, McKesson purchased only 100 books, the first of which went to her father. McKesson has since ordered and distributed 500 more of her self published books.
McKesson narrates the story of Dulatown in a documentary produced by Dr. Beth Davison (Department of Interdisciplinary Studies and University Documentary Film Services). The film focuses on how the extended Dula clan embraces its history at gatherings where both African-American and White Dula relatives come together around their shared genealogy. Maleek Loyd '18, Adam Sheffield '15, '16, and Dr. Stephen McCreery (Communications) also assisted in the production.
The residents of Dulatown, their history, and stories are compelling and engaging. And yet, by her own account, McKesson stated that many facets of the residual effects of the slave experience, the shame associated with circumstances linked to the mixed heritage of others in her community and those all over the South, is not unique. But the Dula story had a very different outcome based on the decision of one man to take a step towards equality.
McKesson plans to update the Dulatown story by releasing a revised edition of her book that includes new revelations based on research, genetic testing, and information gained from family connections through the 1300 plus member Dula Facebook page.
McKesson retired as Dean of Western Piedmont Community College in Morganton, NC, and is now an adjunct professor in the Reich College of Education at Appalachian State University.
Listen to the radio program about a documentary on the State of Things concerning the Dulas - https://www.wunc.org/post/how-black-and-white-dula-family-reconciled-their-past
By Terri Lockwood
About Appalachian State University Documentary Film Services
University Documentary Film Services at Appalachian State University teaches, engages in and presents documentary work grounded in collaborative local and global partnerships. Photography, film/video, audio and narrative writing are used to capture and convey memory, life, research, theory and culture. Additionally, the program provides professional consultation to students, faculty and staff engaged in documentary projects; maintains an archive of campus documentary work; hosts workshops for the campus community; and coordinates screenings of both finished and ongoing documentaries produced by Appalachian faculty and staff, as well as visiting professional documentarians. It is a unit within Appalachian's University College. Learn more at https://doc.appstate.edu.
About University College
Formed in 2007, University College consists of the university's general education program, faculty and student support, and co-curricular programming and support – all designed to support the work of students both inside and outside the classroom. All students at Appalachian begin their education in University College and benefit from its programs until they graduate. Learn more at https://universitycollege.appstate.edu.
About Appalachian State University
As the premier public undergraduate institution in the state of North Carolina, Appalachian State University prepares students to lead purposeful lives as global citizens who understand and engage their responsibilities in creating a sustainable future for all. The Appalachian Experience promotes a spirit of inclusion that brings people together in inspiring ways to acquire and create knowledge, to grow holistically, to act with passion and determination, and to embrace diversity and difference. Located in the Blue Ridge Mountains, Appalachian is one of 17 campuses in the University of North Carolina System. Appalachian enrolls more than 19,000 students, has a low student-to-faculty ratio and offers more than 150 undergraduate and graduate majors.
Tags: