Stacy Sears
Hometown: Mars Hill, NC
Joined ASA Team: September 3, 2013
Team Assignment: Men's Basketball, Men's and Women's Cross Country and Football
Educational Background: Appalachian State University, Bachelor of Science Criminal Justice & Risk & Insurance minor; Master of Public Administration- Concentration in Public Management; Education Specialist, Higher Education- Concentration in Administration
Professional Experience: I started my professional career as a Police Officer at Appalachian State University, I specialized in Crime Prevention. Best part of that job was educating college students how to make good decisions while in college and starting the RAD (Rape Aggression Defense Program).
Best Part of Job: Student interaction and watching student athlete's development into young professionals. Getting to watch the students play the sport they love and complete their college degree. Highlight of my day is having an office full of student athletes.
Favorite Quote: "You must do the thing you think you cannot do."-Eleanor Roosevelt
Personal: I like to spend my time out of the office exercising (running, biking, swimming, etc), spending time with friends, traveling or hanging with my family. I love to talk and get to know people, I do not like a lot of alone time.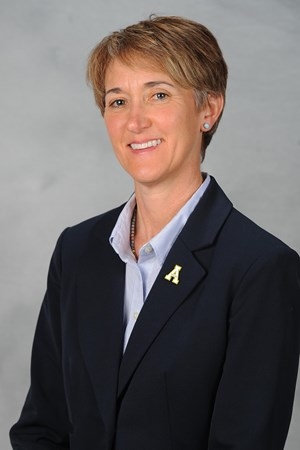 Title:

Academic Services for Student Athletes Director, Team Advisor for: Men's Basketball, Men's and Women's Cross Country and Football

Email address: Email me

Phone: (828) 262-6889
Office address
246 D.D. Dougherty Hall