The Kenneth E. Peacock Spirit of ACCESS Award is presented to a graduating ACCESS senior who embodies what ACCESS was created to do. This person is someone who really needed this opportunity, who took full advantage of their time here at Appalachian, whether that was through involvement or work or a passion for learning or a combination, and someone who has great forward momentum as they leave college.
The 2023 winner of the Kenneth E. Peacock Spirit of ACCESS Award is Carmen Shore, a double major in Finance and Banking and Risk Management and Insurance.
ACCESS was a critical element in Carmen's pursuit of higher education as a first generation college student. According to Carmen, "I vividly remember receiving my scholarship letter in the mail, opening it alone in my room, and the wave of relief and astonishment that came over me as I read it. I was in a place where despite the amount I worked, I still would not have had the resources to pay for education without going into crippling debt. Receiving the ACCESS scholarship changed the course of my life forever."
Her first year was difficult and included complex changes in lifestyle, burnout, relational abuse, loneliness, and the fear of not knowing what she wanted to do with her life. Accustomed to hard work, she poured herself into ACCESS resources, academics and involvement at Appalachian. Carmen has served as both the Treasurer and President of the Equestrian Team. Under Carmen's leadership, the team was awarded the Appalachian Image and Outstanding Club Sport award for the 2021-22 year and again in 2022-23. Carmen also served in a student leadership position as a Club Sports Executive Officer. In this position she assisted 5-6 entire Club Sports teams in navigating their responsibilities to the university and mentored them in leadership development.
Carmen has been able to tailor her experiences into potential job offers and opportunities to continue her success after graduation (May 2023). She has taken full advantage of the ACCESS scholarship and her time at Appalachian while simultaneously building community and opportunity for others. Congratulations Carmen!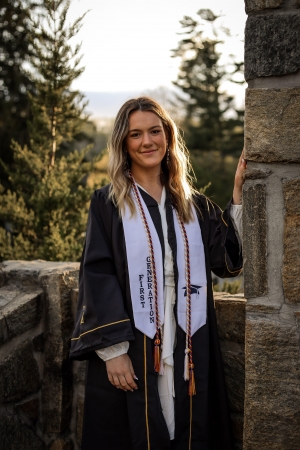 Tags: