Andy Miller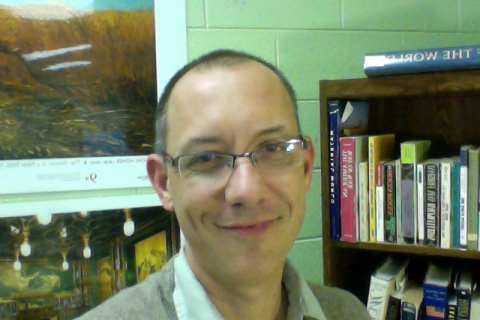 Andy Miller believes in the phrase "college-ready." Since 1999, his teaching craft has been shaped by unique experiences with Advanced Placement, International Baccalaureate, dual enrollment and the Early College movement. Although attending college is ultimately a revolutionary experience in the life of a young person, Andy feels the transition from high school should be seamless. "It's important for me to deeply understand both sides of the fence between the Senior Year and the First Year. But like Reagan, I want to tear down that wall."
Andy's college and high-school classrooms are talkative environments where all students are encouraged to think critically, debate and collaborate on meaningful projects. Since 2012, he has taught in ASU's First Year Seminar program. His previous course, Darwinism at the Worlds Fair, explored Chicago's 1893 Columbian Exposition.
Andy is the Social Studies Department head at Avery County High School, where he teaches AP history and honors level courses in Avery's STEM Academy program. There, he regularly advises student teachers from ASU's College of Education. Andy also serves as an AP Reader, scoring the essay portion of the national AP history exam. He earned a Masters Degree in Social Science Education at the University of Georgia, where he was involved in college radio and the early sustainability movement. In addition to listening to Jazz and world music, Andy's interests include world cuisine and paddling lazy rivers.