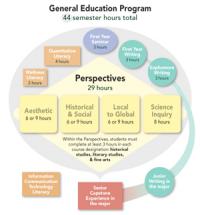 The basis of an Appalachian education is the General Education Program. Through its interdisciplinary approach to teaching and learning, students learn to adapt to new environments, integrate knowledge from diverse sources and continue learning throughout their lives. The General Education Program draws on nationally identified best educational practices, as well as what employers say they want from today's graduates.
The General Education Program has four goals: thinking critically and creatively, communicating effectively, making local to global connections, and understanding responsibilities of community membership.
Beginning with the First Year Seminar, the General Education Program accounts for 44 semester hours of a student's degree program. A total of 29 hours come from the program's four integrated units called Perspectives – Aesthetic, Historical and Social, Local to Global, and Science Inquiry – with rotating themes from which students select their courses.
The program also includes writing courses at the freshman, sophomore and junior level; quantitative literacy courses to develop reasoning and numerical skills; and a wellness literacy requirement to enhance students' knowledge and management of their personal health in all its dimensions. The General Education Program also incorporates an information communication technology literacy requirement as well as a Senior Capstone Experience in a student's major.
Visit the General Education Program Site.
First Year Seminar

First Year Seminar is the introductory course in the General Education Program. Required of all new students, these seminars help students integrate knowledge and bridge concepts across academic disciplines through an interdisciplinary approach. These small classes are taught by experienced faculty who are committed to helping freshmen successfully transition from high school to college by developing creative and critical thinking abilities, cultivating effective communication skills, and introducing students to a variety of research tools and methods.