Toney Frazier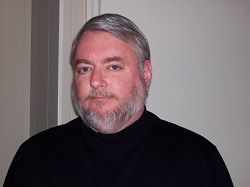 Mr. Toney Frazier has been a Lecturer in the Department of English at Appalachian State University since 2001. He continues to teach a wide range of courses for English, including composition, literature, business and technical writing, and film studies. Since 2010, he has also greatly enjoyed teaching the First Year Seminar course he designed—Horror in Media, Culture and Art—which incorporates the study of famous works of literary horror over two centuries along with a survey of influential examples of horror in more "popular" areas of art and entertainment, from film and television to music and comics to Halloween traditions and other cultural appropriations. He uses the course to focus on the common sources of fear, both natural and supernatural, that find their way into the varied kinds of storytelling and entertainment that make up the horror genre. Students are invited to share their own history with and exposure to horror entertainment, as they explore classic and contemporary works designed to terrify and disturb, but which also provide a context for exploring the nature of suffering and evil, in both the imaginary and real worlds.
In his approach to teaching, Mr. Frazier tries to facilitate a connection between students and great works of storytelling art by making these works relevant to their own present lives and circumstances. He strives to give students the necessary historical and sociological background to help them more fully appreciate what may be unfamiliar background for the works. In the classroom, he encourages an informal give and take of gut reactions and impressions about the assigned material, always striving to create an open and courteous forum for the expression of opinions. He makes a concerted effort to demystify the approach to understanding literature, film, and other narrative art forms. By doing so, he hopes to improve his students' abilities to confidently analyze the material and produce the type of formal critical essays that will be required of them in other courses.
In his time away from the classroom, Mr. Frazier reads a broad spectrum of literature and watches all genres of film. He enjoys the fiction of twentieth-century writers such as Flannery O'Connor, Jim Thompson, Robert Aickman, and Cormac McCarthy. He grew up watching "monster" movies and continues to be impressed by the growing sophistication of horror films and the hold that they have on American culture. He is married to a leading scholar of American and Appalachian literature. Together, they enjoy traveling around the southeast and finding good Thai and Indian food wherever possible.