Appalachian values academic excellence as well as athletic achievements and insists that individuals are students first and athletes second.
Eligibility
Academic Eligibility is evaluated each academic term by Appalachian State University's NCAA Continuing Eligibility Specialist. For more information, contact Sharon Sweeting, NCAA Continuing Eligibility Specialist – Academic Services for Student Athletes at sweetingsb@appstate.edu or 828-262-7628.
Learn more about Eligibility Rules & Requirements
Spotlight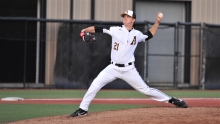 Major: Construction Management
Minor: Spanish
In his junior year, Colin was drafted and signed to a minor league roster. He decided to return to Appalachian State...